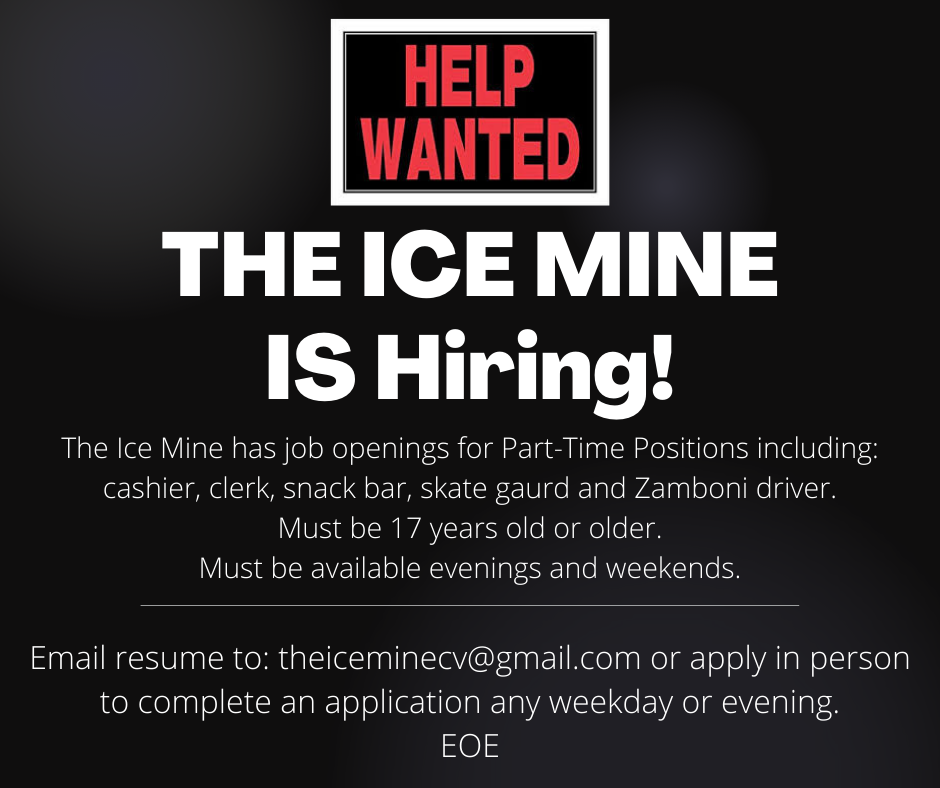 WE ARE NOT OPEN FOR PUBLIC SKATE AT THIS TIME
THE ICE MINE MARCH SCHEDULE
| | | | | | | |
| --- | --- | --- | --- | --- | --- | --- |
| Sunday | Monday | Tuesday | Wednesday | Thursday | Friday | Saturday |




March 1

7:15 Co JV vs Morgantown
8:40 Co Varsity vs EF
SENIOR NIGHT


March 2

6:00 FAYHA 10U/12U

March 3

7:00 Co JV and MS
March 4

6:00 ST - 12 & Under
7:00 ST -13 & Over
March 5

12:00 ST - 12 and Under
1:00 ST - 13 and Over






March 6

CLOSED
March 7

7:00 FAYHA 10U
8:15 LF 12U vs Gateway
March 8

CLOSED


March 9

6:00 FAYHA 10U/12U
7:00 FAYHA 14U/18U


March 10

6:00 Co JV Practice
7:00 Co MS Practice
March 11

6:00 ST - 12 & Under
7:00 ST - 13 & Over

March 12





10:00 FAYHA 10U vs Beaver

11:30 FAYHA 12U

12:30 ST - 13 and Over

2:00 Little Pens

3:30 FAYHA Skills 8/10U

4:50 FAYHA Skills 12/14/16/18U

March 13

10:00 FAYHA 8U Practice
11:00 FAYHA 10U/12U
12:30 Little Pens
1:30 ST - 12 and Under
2:30 ST - 13 and Over
March 14

6:00 FAYHA 8U
7:15 LF 10U vs Plum
8:20 LF 8U and 12U
March 15

CLOSED


March 16

6:00 FAYHA 10/12U

March 17

6:00 Co MS Skate and Pizza Party

March 18

6:00 ST - 12 & Under
7:00 ST - 13 & Over
March 19





12:00 ST - 12 and Under

1:00 ST - 13 and Over

6:00-9:00 AT&T FirstNet Public Skate.

Free for First Responders (FR),

$5 for FR family members,

$10 for general public

March 20

12:00 ST - 12 and Under
1:00 ST - 13 and Over


March 21

6:00 ST - 12 and Under
7:00 ST - 13 and Over

March 22

CLOSED
March 23

6:00 FAYHA 12U
7:00 FAYHA 14/18U


March 24




CLOSED

March 25

6:00 ST - 12 and Under
7:00 ST - 13 and Over
March 26

1:00 ST - 12 and Under
2:00 ST - 13 and Over
March 27

1:00 ST - 12 and Under
2:00 ST - 13 and Over
________________________
April 3
FAYHA TRYOUTS
8:30-9:30 8U
9:50-10:50 10U
11:10-12:10 12U
12:30-1:30 14U
1:50-2:50 16U and 18U

March 28

6:00 FAYHA 8U
7:00 FAYHA 10U
___________________
April 4
FAYHA TRYOUTS
6:00-7:00 8U
7:20-8:20 10U
March 29

CLOSED

_________________
April 5

CLOSED
March 30

6:00 FAYHA 12U
7:00 FAYHA 14/18U
__________________________
April 6
FAYHA TRYOUTS
6:00-7:00 12U
7:20-8:20 14U
8:40-9:40 16U and 18U
March 31

CLOSED

____________________
April 7

FACILITY CLOSED FOR SUMMER
April 1



6:00 FAYHA Skills - Canceled




7:00 FAYHA Skills - Canceled

April 2
FAYHA TRYOUTS
8:30-9:30 8U
9:50-10:50 10U
11:10-12:10 12U
12:30-1:30 14U
1:50-2:50 16U/18U
Welcome to The Ice Mine! We are committed to creating a safe, comfortable and enjoyable experience for all guests. All guests shall remain respectful and courteous to their fellow patrons and will comply with requests from The Ice Mine staff regarding facility policies, emergency response procedures and behavior which impact the event experience of fellow spectators. The Ice Mine values the support of all guests and reserves the right to eject any guests for any reason, including not treating other guests attending any event with dignity and respect.
Our facility houses an Olympic size ice rink, a 20,000 square foot roller rink, a full-service snack bar and the Ice Side Grill, which is a full service bar and restaurant. A pro shop that features basic hockey needs and skate sharpening and The Ice Mine Training Center with shooting rooms and dryland training.
We are also home to the FAYHA Ice Miners, FAYHA Mini-Mites, Connellsville Falcon Hockey, The Ice Mine Adult Hockey League, Old Timers Hockey, the Little Penguins Learn To Play Hockey Program, the Learn To Skate USA Program, Pinnacle Hockey Training Camps, One Shot Wrestling and Koaches Korner.
Whether you visit us for many of our hockey leagues, tournaments, skating activities, parties or if you are a first time visitor, our goal is to provide you with an experience that meets or exceeds your expectations.
To learn more about The Ice Mine and the products and services we can offer, please call us at 724-626-4423.